Whole House Remodel and Addition Previous
---
This project included 3 phases that were intended to upgrade this 70's style home on a beautifully wooded site into a modern spacious home.
The client had selected a contractor and we were asked to join them to provide the detailed design, renderings needed to provide the owner with visuals of the new spaces and detailed drawings to enable construction. The challenges that faced us included:
Maintain the exterior modern style architecture, clerestory windows, etc.

Retain interior structural components such as large roof beams.

Open up the closed floor plan.
Phase 1
The initial phase included gutting most of the interior as well as removing a large stone fireplace in the middle of the living space.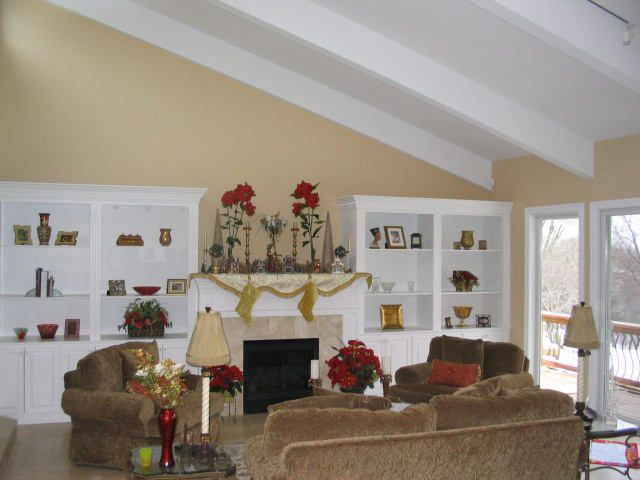 The functional objectives of this phase included:
Remodeling Kitchen

Upgrading lower level Family room

Opening Dining and Circular stairway spaces.

Designing a prominent front entry to replace inconspicuous front door.

Adding laundry, front entry and mudroom spaces.
Detailed plans were developed. Interior and exterior renderings provided the client with a good understanding of how the newly shaped spaces would appear.
Phase 2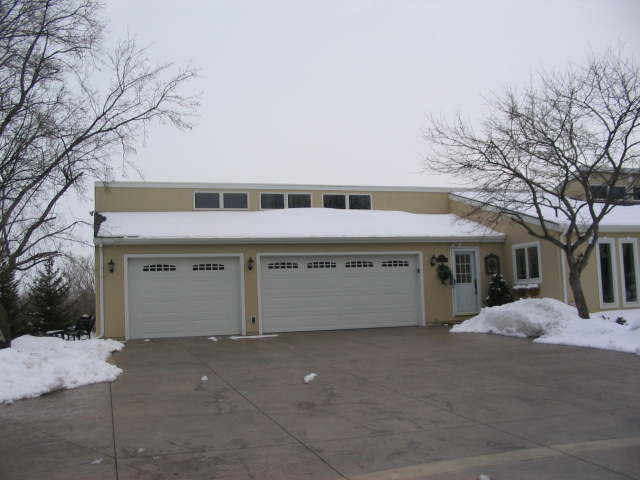 The client, who owned a contracting business, required additional garage space for some equipment.
Initially a detached garage was designed, but the client decided an attached garage would be more practical and fit better on the lot.
The garage included clerestory windows to help match with the house style.
Phase 3
The only thing still needing improvement in this extraordinary home was a small master bedroom with a small bath and limited closet space.
It was decided to add another wing with the same style as the main house on the opposite side from the extended garage.
A spacious master bedroom was designed that included clerestory windows and beam ceiling to match the existing house. It overlooked the rear yard with pool and wooded area. A large master bath was included that also overlooked the rear yard and included clerestory windows that provided exceptional light. The lower level included a large recreational area, refreshment area, guest suite, and storage areas. This area had walkout access to the pool area.
---